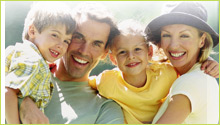 Because FRENCH PROPERTY EXPERTS by Anthinéa Limited value all its clients, we feel you should be treated as such and not in any other way. Our aim is to offer you excellent professional services ensuring that your purchase is completed smoothly and to your full satisfaction. We want you to feel confident in the purchase of your dream home abroad.

The EXPERT'S CLUB gives you access to our "Gold service" which has been designed with just this in mind. FREE OF CHARGE, you will benefit from the following services.

| | |
| --- | --- |
| I - Refining your search & finding the right property | |
Thanks to our 10 years experience in France, we have the knowledge and expertise in helping you to define what your property search looks like.

Your dedicated Relationship Manager will support you in refining and searching for the right properties that match your expectations. We will recommend doing that face-to-face in our office in London, or alternatively through our on-line form or over the phone, whatever format best suits you.



| | |
| --- | --- |
| II - Coordinating and managing your viewing trip to and in france | |
All under control - Before your viewing trip, we will help you book your flights, arrange for your local accommodation and organise a pickup or car rental on your arrival.

Throughout your visit in France, our bi-lingual agent will view the pre-selected properties with you and be there to answer any questions you might have on the property, the buying process in France or in the region.



| | |
| --- | --- |
| III - Financial support services | |
1 - SUPPORTING YOUR MORTGAGE APPLICATION
Every day, we work with a number of French mortgage companies. We know the best agencies that would have a financial solution in line with your budget arrangement. We are therefore able to provide you a number of competitive quotes from different players in the marketplace. We will deal with the administrative aspects and be there to answer any further questions on your financial requirement or mortgage management.
2- OPENING A FRENCH BANK ACCOUNT
As you will soon become a French property owner, you will have to open a French account. We will help you to find the French bank that best fits your financial status. We know (from experience) that administrative paperwork can sometimes be difficult to understand – even more so in a foreign language. Also a number of banks offer now an English banking service, we will aim to assist you if you wish us to do so.

| | |
| --- | --- |
| IV - Dealing with legal documentation | |
As part of the EXPERT'S CLUB , you will have access to a fully inclusive legal assistance.

We will offer you the services of our in-house qualified bi-lingual lawyers. They are here to ensure that your purchase is dealt with an accurate manner under French law.
Our French lawyer will answer any legal questions you might have and we will follow the whole purchase procedure of your home with you.

In other words, our lawyers and we will assist you until the completion of all contractual documents.
With FRENCH PROPERTY EXPERTS by Anthinéa Limited, you should aim to complete the purchase procedure in 8 to 10 weeks, given that the average duration for completion is usually 12 weeks in France. We can shorten the process, thanks to our especially dedicated in-house contract manager.
While a detailed English legal service is provided, we will not be able to translate into English legal documents as part of our EXPERT'S CLUB services. If you so wish, we will provide you with a quotation for all legally approved translated documents.



| | |
| --- | --- |
| V – Post-sales services | |
1 – PROPERTY INSURANCE
Under French law, all home in France has to be insured by the property owner. As part of our Expert's Club service, and given our partnership with AXA Assurance, we can offer you ONE YEAR HOME INSURANCE – FOR FREE.
2 – UTILITIES ACCOUNT TRANSFER
Our team will ensure that your property is up and running prior your move-in. We will connect electricity, water, gas… and transfer these into your name. All accounts will be properly set up before your arrival into your new home.
3 – TELEPHONE CONNECTION
If you so wish, we will manage the set-up of your landline as well as any broadband or Internet connections you might require.
So from day one, your house will truly become your new home with all the key facilities installed to make your move easy and even more enjoyable.
4 - OTHER SERVICES
As we have offices in France and our staff live across the region, we can advise you on specialist services. To support this, we offer a telephone/Internet based after-sales service dealing with any post purchase queries that you may have, for example finding a gardener, a new builder, school enrolment, clubs, local activities and others…